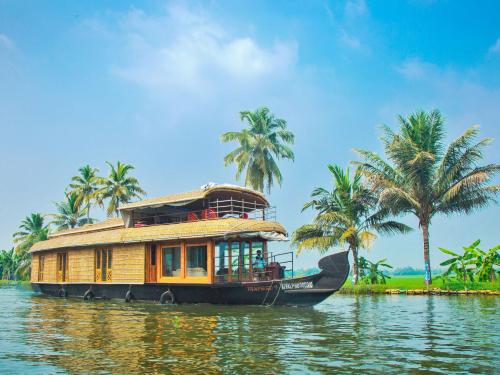 Duration
Three days/Two nights
Total distance 65KM
Embark point :Alappuzha Finishing Quay
Disembark point : Alappuzha Finishing Quay
Check inn : 11:30am
Check out : 10:00am
Day 1
Guests are greeted at the pre-designated meeting point in Alleppey finishing point and escorted to Angel Queen Houseboat . After settling in you are invited to join the owner and crew for a welcome reception and cruise safety briefing. You can relax on board and enjoy the view before your first gourmet meal on the boat restaurant.Cruise passes Alleppey and head towards National Waterway 3 passing Kainakary,Pallathuruthy and reaches around lunch time at Chempumpuram.Boat halt for a lunch break and our staff will cater the local cuisine specially prepared with spices.
After lunch break boat leaves behind chempumpuram and head towards Karumady region (A stopover in karumady Temple (
https://en.wikipedia.org/wiki/Karumadikkuttan
) for a visit and then towards Thottapally spillway passing purakkad.
Head left towards from thottaplly to Thakazhy passing cheruthana and kunnumma and finds a suitable overnight spot in Thakazhy.
Guest are free to go for local village visit and duck hatchery.
Spent overnight while having the best local food on board.
Day 2
Starts sailing at 0900am after delicious breakfast ,head towards champakulam church while passing Pindi thodu,Thayamkary to champakulam st Marys basilica visit at 11:15am,
Cruise then passes champakulam along pamba river one of the main backwater waterways to vembanad lake and experience the hum of daily life, wave at boatmen oaring their canoes or simply casting their nets and women going about their routine in houses set on the waters edge.Heading east towards R Block Paddy fields passing Champakulam,Nedumudy,Koventha,Kainakary,Pandicherry,Kuppapuram and then to man made paddy fields block H Block,C Block and reaches R Block around 0545pm.
Overnight stay enjoying fisherman activities and fishing.
Day 3
Starts sailing at 0900am and head towards Alleppey passing Marthandom,Rani,R block and then to finishing point,Alleppey and check out follows at 1100am
Inclusions:
Refreshing Welcome drink on arrival
Fruit basket in the room on the day of arrival
Breakfast, Lunch and Dinner daily
Tea/Coffee/Bootled water/Lemon juice/Pineapple juice on request
Evening Tea/Coffee with cookies
Deck facility boat
Exclusions :
Soft drinks
Beverages
Special Tariff is
One room suite : 36000INR(2 passengers)
Two room suite : 46000INR(4 Passengers)
Extra Person 4000INR per person
28% tax excluded.